Farewell to the Mike McCarthy/Aaron Rodgers era in Green Bay
While Aaron Rodgers is the best QB, this Packers team is bad. There is clearly some type of disconnect between Rodgers and the coaching staff and however you look at it, at 4-5-1, this season is quickly getting away from the Packers. Much of the blame for yesterday's loss falls on Rodgers, who made some miraculous throws but also missed reads on the easy throws. With just a 1-3 record since the bye, the Packers are just about "done". It's not that I don't have faith in Aaron Rodgers, it's that I don't have faith in Mike McCarthy or the players surrounding Rodgers. I also look around the NFC, and the teams they are competing with. Vikings and Bears are both playing well ahead of them in the division. Panthers essentially have one Wild Card spot locked up, which means the Packers are competing with Vikings/Bears for division and wild card, the Eagles, Cowboys, Falcons, and now Seahawks, who stay alive with the win. Should the Packers miss the playoffs for a second consecutive season, you can beat this era of Packers football, with Mike McCarthy as head coach will come to an end.
Farewell to the Warriors as we know them
Earlier this week, Draymond Green and Kevin Durant got into a very public verbal spat on the court in an overtime loss to the Clippers. This incident resulted in a suspension for Draymond Green. In his first game back, the Warriors got blasted by the Rockets, in a Western Conference Finals rematch by a score of 107-86. While the score is alarming, this story of Draymond's behavior and Durant's free agency, plus Steph Curry's health, will continue to hang over this team all season.
Farewell Carmelo Anthony
For the second team in roughly 4 months, Carmelo Anthony is moving on from his present team. After being bought out over the summer, Melo enthusiastically joined the Rockets, reuniting with his old Knicks coach, Mike D'Antoni and his best friend Chris Paul. After 10 games, this was deemed a failure, and Anthony will now look to join the 5th different team of his career (excluding that 10 minute stint with the Hawks). Anthony started just 2 out of the 10 game she played, scoring a career low 13 ppg in just 29 minutes per game. The minutes are the fewest of his career and the first time he has ever been under 30 mpg. It's yet to be determined what is next for Anthony – is he LA bound to join the Lakers? Would the Heat be interested, as a consolation prize to not acquiring Jimmy Butler? How about a team out west like the Blazers or Pelicans? Or maybe he should consider playing in China with Jimmer Fredette, where he too can score 75 points in a game.
Farewell to Ed Oliver's Houston Career
As you see in the video below, Houston DT Ed Oliver, widely projected as a top 2 pick in the 2019 NFL draft and his head coach Major Applewhite got into a rather heated argument on the sideline. Oliver has been out the past few games with a knee injury and his status is what sparked this intense conversation. Apparently, only "active" players can wear jackets on the sidelines for Houston. So the lesson is – you don't play, you freeze. Deal with it. That's a great message to send along to 18-22 year old students. I am guessing that Oliver, who declared back in August that 2018 would be his last season, will not have worry about this rule or any moving forward as I would assume he will leave the team and the next time we'd see him is the NFL combine. Leaving now (especially while injured) won't jeopardize his draft stock in anyway, regardless of what anyone tells you.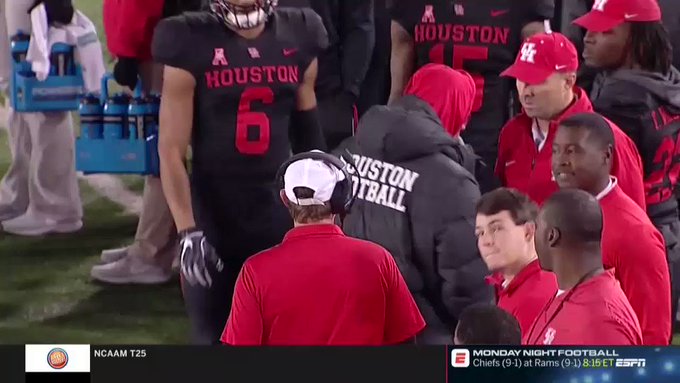 Farewell to Unanimity
On Wednesday, Jacob DeGrom received 29/30 votes for Cy Young. On Thursday, Christian Yelich received 29/30 votes for MVP. Both of these men were the obvious choices for these awards. Why must we create drama? Why the unnecessary votes? Vote for THE guy and give respect to second, third, fourth place. Ironically, the one non-Yelich MVP vote went to DeGrom.
Farewell to UConn Basketball Being Down
Is UConn back? (as one friend put it to me last night). The Huskies, who missed the NCAA tournament 3 of 4 seasons picked up a huge win Thursday night over #15 Syracuse at MSG. Huskies still have a lot of work to do in re-building the program, but it's clear Dan Hurley knows how to coach and run a program and that UConn is trending upwards. That's good news for the AAC as the more teams, like UConn and Memphis, that are on the upswing, that better it is for the overall perception of the conference.
Farewell Old Marlins
On Thursday, the Miami Marlins announced they were moving on from the colorful logo on the left, replacing it with the more "Miami-centric" logo on the right.
Farewell to Mexico's chances of seeing the NFL's game of the year
I know this is old news, but hasn't been covered here yet – the Rams will play the Chiefs on Monday Night Football from Los Angeles. It was originally scheduled for Mexico but due to the horrible condition of the field, the game has been wisely relocated.
Farewell College Football Award Credibility
Finalists for many of college football's top awards were revealed this week. One of those awards is the Doak Walker Award, given to the nation's top running back. Ten names were listed and none of them were Cincinnati RB Michael Warren. I'm not saying Warren is the best RB in the country or that he deserves to win it. I'm saying, the nation's 13th leading rusher, who is second in the country with 17 TDs (18 total) and is a major reason why his team is 9-1, simply deserves the respect of being acknowledged.