With the NBA season under way, I take a look at all 30 teams and how they compare to 30 different scenes throughout the Marvel Cinematic Universe.
WARNING – may include spoilers if you haven't seen every MCU movie
You can see my comparisons between Marvel characters and NBA stars.
Atlanta Hawks
Movie: Avengers: Infinity War
Scene: The Snap
At the end of the third Avengers movie, Thanos snapped his fingers after securing all 6 infinity stones and it wiped away half of all living things.
Back in June, Trae Young snapped his fingers and wiped away the Knicks, as the Hawks eliminated the Knicks in 5 games in the first round of the 2021 Playoffs.
Entering this season, Young should be even stronger and, like Thanos, is surrounded by strong and many teammates such as De'Andre Hunter, Kevin Huerter, John Collins, Cam Reddish, Bogdan Bogdanović, Danilo Gallinari, Clint Capela.
Boston Celtics
Movie: Iron Man 2 and 3
Scene: Tony Stark and James Rhodes fight together
Stark and Rhodes are very good friends, and together they go to battle and have each other's backs. Starks and Rhodes are one of the best duos in the MCU, just like Jason Tatum and Jaylen Brown.
Who they fight with, may change, like the Celtics' roster. Gone are Kemba Walker, Tristan Thompson and Evan Fournier and arriving are Dennis Schroder, Enes Kanter, Al Horford, Josh Richardson.
Together, Stark and Rhodes took down Ivan Vanko in Iron Man 2 and defeated Aldrich Killian in Iron Man 3. However, they lost to Steve Rogers' team in Captain America: Civil War and they lost to Thanos in Avengers: Infinity War.
Tatum and Brown, together have reached 3 Eastern Conference Finals but have yet to advance to the NBA Finals. Can they finally overcome the obstacles that Stark/Rhodes duo faced and come out on top?
Brooklyn Nets
Movie: Spiderman: Homecoming
Scene: Tony Stark takes Peter's suit
In the middle of the movie, Tony Stark took Peter's suit because of his poor behavior and failure to listen to direction.
This is similar to the current situation between the Nets and Kyrie Irving. Local laws in NY include strict COVID vaccine mandates, that include rules about gyms. Essentially, Irving must be vaccinated in order to play for the Nets (at this time). Recently, Brooklyn announced that they would not allow him to be a part-time player, meaning it's vaccine or nothing for Irving.
Nets, like Stark, have taken away his jersey (or suit) and are forcing him to the sidelines, despite his desire to play and go to battle.
Charlotte Hornets
Movie: Ant-Man and the Wasp
Scene: The Wasp arrives on the scene
Forgive me, but I had to make a Wasp/Hornets reference. The debut of the Wasp in the second Ant-Man movie was a big deal.
Hornets reached the play-in game in 2021, but did not have enough firepower to advance into the playoff field. They haven't made the playoffs since 2016 and absurdly haven't won a series since 2002.
This year, with additions like James Bouknight, Mason Plumlee, Kelly Oubre, and hopefully better health to guys like LaMelo Ball and Gordon Hayward, the Hornets, like the Wasp, should arrive onto the scene ready to do battle in the playoffs.
Chicago Bulls
Movie: Captain America: Civil War
Scene: Recruitment of Spiderman, Ant-Man, Hawkeye
Towards the middle of the movie, both Tony Stark and Steve Rogers went out to recruit other heroes for their teams as they prepared to battle each other. This recruitment isn't unlike what happens during NBA free agency.
Bulls had arguably the busiest and most successful off-season did a good job recruiting in free agency. Zach LaVine made his first All-Star team in 2021 (27.4 ppg on 50.7% shooting, 5.0 rpg, 4.9 apg) and the Bulls acquired former All-Star Nikola Vucevic at last season's trade deadline. Over the summer, Bulls recruited Lonzo Ball and Demar Derozan to come to Chicago.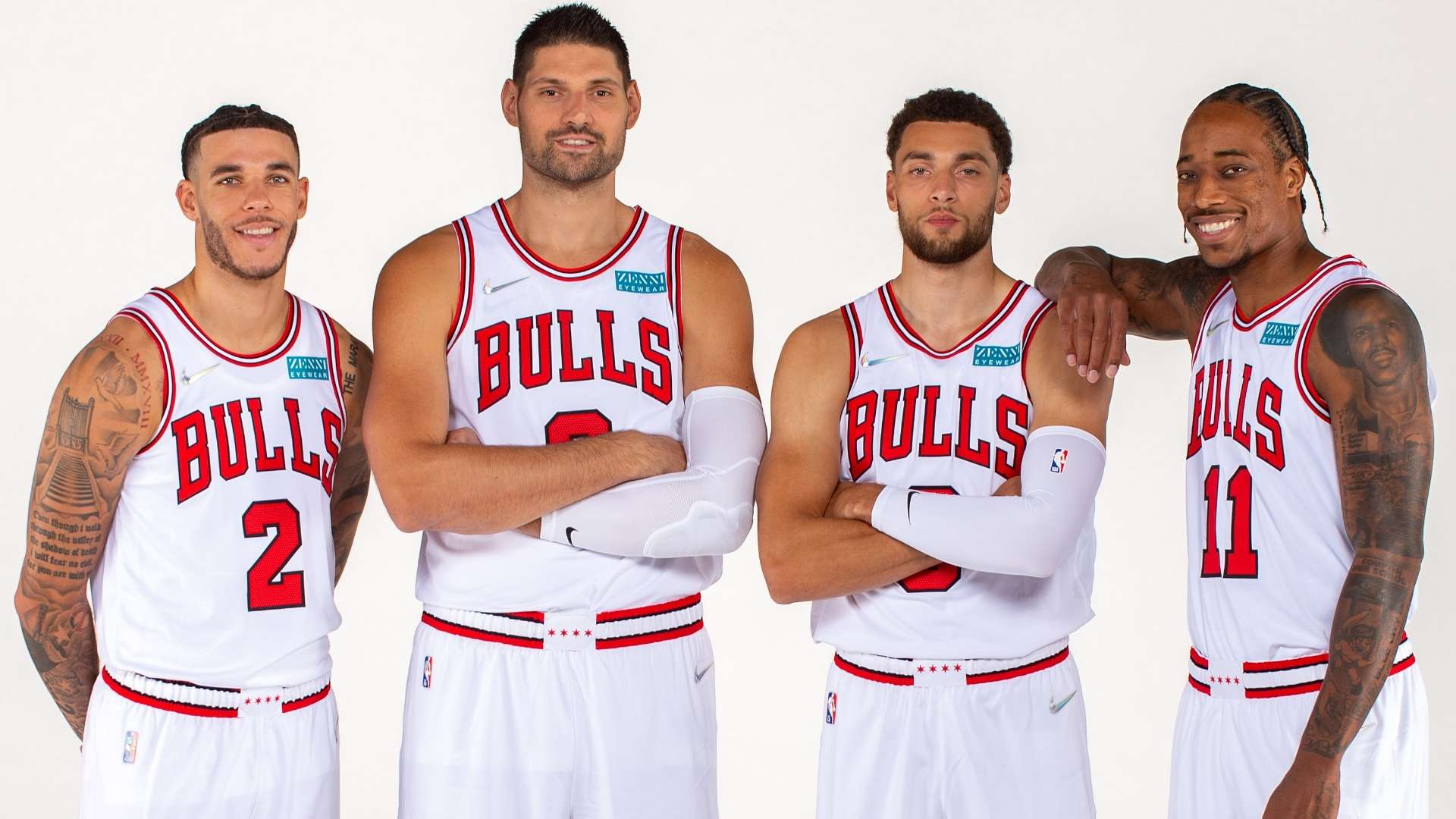 This is similar to how Stark got Spiderman to join his team, just like Rogers got Scott Lang (Ant-Man) and Clint Barton (Hawkeye) to join his team.
Bulls haven't made the Playoffs since 2017 and the last time they won a series was 2015. Will second-year head coach Billy Donovan be able to maximize this group?
Cleveland Cavaliers
Movie: Thor
Scene: Frost giants fight Asgardians
The villains of the first Thor movie are Frost Giants. Large, beastly creatures, who ultimately are not successful in taking over Asgard.
Historically, the Cavs have failed in taking over the NBA, with failed attempts in 2015, 2017, and 2018, though they did temporarily rule in 2016 but it was a short-lived reign.
The Cavs are comparable to the Frost Giants due to their size.
During the 2021 off-season, Cleveland drafted Evan Mobley (7'0), signed Lauri Markkanen (7'0), re-signed Jarrett Allen (6'11), and also added Tacko Fall (7'5). They still have Kevin Love (6'8) and also recently added Ed Davis (6'10). Will size be a factor? Or are the Cavs doomed for more failure like the Frost Giants?
Dallas Mavericks
Movie: Captain America: Winter Soldier
Scene: Elevator scene
This is one of the best scenes in the MCU and needs no introduction. Steve Rogers walks into an elevator with Brock Rumlow and about a dozen other S.H.I.E.L.D. (aka HYDRA agents) ready to attack him.
This feels similar to the Mavs. Adding Reggie Bullock and keeping Tim Hardaway Jr were both good moves, but it still feels to me like the Mavs are under-manned. I'm not a huge fan of their roster and even less of a fan of the decision to hire Jason Kidd as head coach. Dallas did make the playoffs the last two seasons, but it was largely due to the presence of Luka Doncic. In this scenario, Doncic is Steve Rogers. He can walk onto the court and beat any team 1-on-5 if he has to, and there will be plenty of times this season where he does have to.
Denver Nuggets
Movie: Thor Ragnorak
Scene: whole movie
The first Thor movie was good, the second one is not good and the third (Ragnorak) is widely considered the best of the three. I loved it, and it certainly felt like the breakout performance for the Thor character. Well, breakout characters described the 2021-22 Nuggets pretty well.
Nikola Jokic, a 3x All-Star, really broke out in the biggest way in 2021, winning league MVP. Michael Porter Jr, fresh off signing a contract worth up to $172 million will be asked to emerge as a potential All-Star and Aaron Gordon, like Thor, will be asked to fly, and hammer the ball home.
Jamal Murray is expected to miss most of the season, which means Denver will be seeking breakout performances from their PG candidates, such as first round pick Na'Shon Hyland, Facundo Campazzo, Monte Morris, Austin Rivers.
Detroit Pistons
Movie: Iron Man
Scene: Tony Stark escapes cave
Stark took a routine mission to Afghanistan to do a weapons demonstration for the US Military. The trip went sideways when a group of terrorists attacked the car and kidnapped Stark. Soon after, he managed to find a way to escape the cave and return to happiness and glory.
Since 2020, the list of players the Pistons have let go or sent away is pretty crazy, considering the lack of return they have gotten overall. These players found a way to escape the dark cave (Detroit) and find their way back to the joy of basketball.
The list includes Blake Griffin (bought out), Derrick Rose (traded for Dennis Smith Jr), Andre Drummond (bought out), Christian Wood (left via FA), Markief Morris (left via FA), Reggie Jackson (left via FA), Bruce Brown (traded for Dzanan Musa), Tony Snell (traded for Dewayne Dedmon).
2021 #1 overall pick Cade Cunningham joins Jerami Grant, Killian Hayes, Saddiq Bey, among others in Detroit's cave. Will these players look to escape? Or will they find a way to win?
Golden State Warriors
Movie: Thor
Scene: Thor regains his power on Earth
Early in the first Thor movie, the heir to the Asgardian throne was banished to Earth and stripped of his powers. Later, he was able to defeat the Destroyer (set up by Loki), proving he was worthy and regained his power.
In 2019, the Warriors were on top of the world. Then, Kevin Durant went down and Klay Thompson went down and it was down to Steph Curry and Draymond Green. It's almost like the Warriors were stripped of their powers. They lost the Finals to Raptors and have been meandering around the NBA for two consecutive seasons missing the playoffs both years.
However, during those two playoff-less seasons (the equivalent of Thor wandering New Mexico), they did gain assets. Thor, gained Dr Selvig and Jane Foster. Warriors gained James Wiseman, Jonathan Kuminga, Moses Moody.
Now, Klay Thompson returns as does Andre Iguodala, both former 3x champions with Golden State. Will that be enough to help the Warriors prove their worthiness to lift the hammer, or the Larry O'Brien Trophy in this case, and regain their throne?
Houston Rockets
Movie: Guardians of the Galaxy 2
Scene: Opening scene – Groot dancing during battle
During the opening scene of Guardians 2, the team is in a serious battle against a giant alien monster. Groot, is blasting music and dancing, having fun but is completely useless during the fight.
This feels like the 2021-22 Rockets. A team that is not prepped for battle and will be useless in the grand scheme of things, but will also be fun and entertaining. With Jalen Green, Kevin Porter Jr, Alperen Şengün, Rockets have a chance to be the most exciting 60-loss team in the league.
Indiana Pacers
Movie: Avengers: Endgame
Scene: Time travel
Rick Carlisle was an assistant coach for the Pacers from 1997-2000 and then the head coach for Indy from 2003-2007. They made the playoffs 3/4 years, regressing each year going from Conference Finals, to semis, to losing in first round, to missing playoffs his final year. He resigned in 2007 and later joined the Mavs where he coached from 2008-2021 and won an NBA title in 2011. But after a mutual departure this past off-season, Carlisle returns to Indiana as the Pacers, like the Avengers in Endgame, go back in time in search for victories.
The scene is the same for the Pacers. They are essentially running it back with the same roster that missed the playoffs in 2021 but are hoping that health and coaching are enough to make significant improvements.
Los Angeles Clippers
Movie: Avengers: Civil War
Scene: King T'Chaka is killed and T'Challa becomes new king
I made this reference in my Marvel NBA characters article, but it's fun to think of Paul George as the Black Panther.
T'Challa was forced to ascend to the throne unexpectedly, just as Paul George must do. George was meant to be second fiddle in LA to Kawhi Leonard, who tore his ACL during the playoffs and will likely miss the whole 2021-22 season.
George, like T'Challa, must find a way to lead his people. Clippers reached Western Conference Finals in 2021 for the first time in franchise history. Can they take the next step and ascend even further?
Los Angeles Lakers
Movie: Avengers
Scene: The first time all of the Avengers were on scene together
The first Avengers movie represents the first time that Captain America, Iron Man, Thor, Hulk and others came together to work as a team. 2021-22 Lakers represents 6 Hall of Fame players come together to battle the rest of the league.
Lebron James could be considered the First Avenger, as one of the league's oldest players and the first to join the Lakers in 2018. He was followed by Anthony Davis in 2019 and then, Russell Westbrook in 2021.
Also joining the Lakers in are Carmelo Anthony, Dwight Howard, Rajon Rondo, and many others like Malik Monk, Kendrick Nunn, Wayne Ellington, Trevor Ariza, Kent Bazemore.
Combined, the Lakers have a total of 57 All-Star appearances all-time between those 6 and DeAndre Jordan. Uniting all of these former All-Stars could be considered the equivalent of that first team up in Avengers.
Memphis Grizzles
Movie: Spiderman: Homecoming
Scene: Friendly neighborhood Spiderman
In his early stages of heroism, Peter Parker does most of his work locally in Queens, NY. He is referred to, by both Tony Stark and Happy Hogan, as a "friendly neighborhood Spiderman." This reminds me of the Grizzlies.
For one, Ja Morant is a perfect comparison to Spiderman. Both can fly, both can shoot (webs for one, three pointers for another), and both are quick and agile.
The real comparison comes from the neighborhood reference. Memphis LOVES the Grizzlies. They always have loud and passionate crowds. But outside, Memphis there isn't much support. You don't often see people rocking Grizzlies gear in other cities, they are hardly ever on ESPN or TNT, and overall national content is quite minimal. All of this, in spite of the fact that Memphis made the playoffs in 2021.
Jaren Jackson Jr, Dillon Brooks, Brandon Clarke, Zhaire Williams, Kyle Anderson represent a core group of guys, mostly unknown to the casual fans, but beloved by the neighborhood fans.
Miami Heat
Movie: Black Panther
Scene: Black Panther is no longer king, but comes back from the dead to regain his throne
For a minute, Miami were the kings of the Eastern Conference in 2020. Then, they got knocked down, but they were not dead and now they are coming back for the throne this season.
In 2020, Bucks had the best record in the NBA, but were upset by the Heat in the second round of the playoffs. Heat reached the NBA Finals, but lost. Still, it felt like they were on top of the world with the way they persevered through the bubble. Jimmy Butler was like a king.
In 2021 though, Bucks got revenge. Giannis slayed Butler and the Heat en route to their first championship.
But lo and behold, the point is the Heat are not dead yet. Jimmy Butler, Tyler Herro, Bam Adebayo, Duncan Robinson is a great core and Miami added Kyle Lowry, PJ Tucker, and maybe sometime in 2022 Victor Oladipo will return. Heat should definitely be back in the mix this season.
Milwaukee Bucks
Movie: Thor
Scene: Thor's coronation interupted
I was debating between two scenes, but decided to look towards the future, rather than the past. One option would have been Avengers: Infinity War when Steve Rogers arrived on the scene in London to save Wanda and Vision from Thanos' children and how that is similar to Jrue Holiday arriving in Milwaukee to save Giannis and Khris Middleton, helping them finally get to and win the Finals.
But like I said, I'll look to the future. Thor was the heir to Odin's throne and there was a coronation ceremony planned. Now, the Bucks are the champs and have been crowned, but I am thinking about all of the teams who will interrupt and try to fight them this year.
The Nets, even without Irving, are better on paper in my opinion and will be their biggest threat to the throne. Heat's addition of Lowry makes them a factor, the Hawks were 2 wins away from beating Bucks last year. 76ers COULD be a player IF they find common ground between their stars, Celtics are talented enough to be a threat, and the NY Knicks possess more firepower than last season and could attack Milwaukee.
Minnesota Timberwolves
Movie: Thor: Dark World
Scene: the whole movie
Thor 2 is widely considered one of the worst movies in the MCU. The story, the villains, it's all falls a bit flat at times.
No matter how many times you watch, it's always disappointing. If you want to talk about disappointments, the line starts behind Timberwolves in the NBA.
All-time, the Wolves are 2-9 in playoff series with both series wins coming in 2004. They have made the playoffs only once since than (2018). That year, they made the playoffs thanks in large part to Jimmy Butler, who was acquired for Zach LaVine and Lauri Markkanen and later traded for a very minimal return.
Wolves enter 2021-22 with Karl-Anthony Towns, D'angelo Russell, and Anthony Edwards and are likely continue to look on the outside of the playoffs.
New Orleans Pelicans
Movie: Spiderman: Far From Home
Scene: Spiderman fights Mysterio and Illusions
When I think of this movie and how Quentin Beck, aka Mysterio, used the power of illusions to battle Spiderman, it makes me think of the Pelicans.
Zion Williamson, the 2019 #1 pick has yet to appear in a playoff game, in part because of a poorly assembled roster by the GM. Griffin watched Lonzo Ball leave via fee agency and replaced him with a much worse option in Devonte Graham. They traded for Jonas Valančiūnas, who seems like a weird fit next to Williamson and Brandon Ingram.
Pelicans have created this illusion that they are building a good team around Zion, but so far they are 0-2 and I believe by the end of the 2022 season, they will be 0-3 in terms of playoff appearances. But Griffin will continue with his illusion that progress is being made in a successful rebuild and that there is positive momentum, even if there is not.
New York Knicks
Movie: Thor Ragnorak
Scene: Thor returns to Asgard to save his people
In this movie, Thor were forced to fight his sister Hela, who vanquished him to a planet far, far away (Sakaar). He was forced to fight his way out and return home, where he managed to save his people of Asgard from, not just Hela, but another evil monster (Surtur).
Kemba Walker has a chance to be a hero. After some reported internal struggles with some Celtics players and coaches (kind of like a sibling rivalry), he was vanquished to the OKC Thunder via trade over the summer. Walker hung out for a bit and eventually found his way out and was able to return home. Walker grew up in Bronx, NY and fans view Walker as a hero. But will he, like Thor, manage to save his people and give them what they want?
Oklahoma City Thunder
Movie: Avengers: Infinity War
Scene: Opener – Thanos destroys Asguardians
Thor is known as the God of Thunder. As the team's best player, let's consider Shai Gilgeous-Alexander the God of (OKC) Thunder.
To start Infinity War, Thanos and his minions destroy what's left of the Asgard ship and the people on it. He killed Loki and Heimdall. Unfortunately, they were outmatched and unable to get a win.
The future of the Thunder is bright, but the present is bleak, as it was during this scene. Thunder have Gilgeous-Alexander plus Lu Dort, Josh Giddey, Tre Mann but that won't lead to much success at this time.
Orlando Magic
Movie: Doctor Strange
Scene: Car accident
Magic. Doctor Strange. Seems easy right?
Well, beyond the obvious, there are some serious parallels between the movie and the franchise. Stephen Strange went through a tragic car accident that affected the use of his hands and cost him his career as a surgeon.
This is similar to the Magic. They lost Nikola Vucevic, Aaron Gordon, and Evan Fournier at the trade deadline and they lost Markelle Fultz and Jonathan Isaac to injuries.
Doctor Strange got off to a slow start as he struggled to learn the mystic arts, but before long he gained some confidence and had success.
Jalen Suggs, Franz Wagner, Cole Anthony, Wendell Carter, Chuma Okeke, RJ Hamton make for an exciting young core for Orlando, but it's very likely that just like Doctor Strange, there is a struggle with Magic to open the season. Over time, they should have success, but the question is how long will the rebuild take in Orlando?
Philadelphia 76ers
Movie: Captain America: Civil War
Scene: Team Rogers vs Team Stark
Look at Ben Simmons and Joel Embiid like Tony Stark and Iron Man. Two guys who learned to tolerate each other, with greater goals in mind (like saving the world or winning NBA title). They had some nice victories along the way, but now after their latest failure (losing in the second round as #1 seed in 2021), Simmons wants little to do with Embiid or the Sixers.
Phoenix Suns
Movie: Black Panther
Scene: Killmonger takes the throne, before losing it
Let's call Devin Booker Killmonger (aka N'Jadaka). That's what I referred to him as in my NBA Marvel characters article. Not that Booker is a bad guy, but he had to battle adversity throughout his whole career. The Suns made the playoffs in 2021 for the first time in 10 years. Booker was more familiar with the lottery than he was with competitive basketball.
So when he finally had his chance to fight for his birthright, for the throne, he took advantage. First, he slayed the king (Lebron James and defending champion Lakers), then he slayed another king (MVP Nikola Jokic and Nuggets), and then Clippers. Suns led Bucks 2-0 in the Finals and it felt like they were about to be crowned, and rule the NBA.
But then, the Bucks, like Black Panther said "I'm not dead" and came back to win 4 in a row. It was a slow and painful death for the 2021 Suns, who should remain in championship contention this season with their core intact and a few key additions as well.
Portland Trail Blazers
Movie: Doctor Strange
Scene: Fight with Dormammu
In order to defeat the big bad Dormammu, Doctor Strange traps them both in a time loop. It kind of feels like that's where Damian Lillard is.
The Blazers keep running it back, in hopes of a different result. They have made the playoffs 8 straight seasons, but lost in the first round each of the last two. They have advanced to the West Finals only once during their run and were swept.
The core remains the same (Lillard, CJ McCollum, Jusef Nurkic). Will Norm Powell, Larry Nance, Cody Zeller make that big of a difference? Or will the time loop keeping going and the Blazers keep losing and failing in the playoffs. If they do, Lillard will be forced to seriously consider his future.
Sacramento Kings
Movie: Captain America
Scene: "I had a date"
Steve Rogers saved the world in his first movie and in the process, crashed a plane into ice. He was stuck in that ice for around 70 years. When he finally woke up, he ran into the middle of Times Square where he was confronted by Nick Fury. Rogers said "I had a date". He said it with disappointment, as he missed the chance to dance with Peggy Carter.
This reminds me of the Kings. For 15 years, the Kings have basically been on ice and they missed their date (in this case, the NBA playoffs). Kings haven't made the playoffs since 2005, currently possessing the league's longest playoff drought.
They added Davion Mitchell in the draft, but he plays the same position as 2021 Rookie of the Year finalist Tyrese Haliburton and best player De'aron Fox. No one ever really knows what the Kings front office is doing and they are likely set up to remain on ice for another season.
San Antonio Spurs
Movie: Black Widow
Scene: Emergence of Yelena Belova
I liked this movie, even if the story-line and time-frame was a bit odd to me. But one of the takeaways of this movie is that Black Widow was being written out of the MCU and her "sister" Yelena Belova being introduced. During the end credits, it became clear Yelena would be playing a role in the MCU in the future.
The 2021 off-season was a changing of the guard for the Spurs. Demar Derozan, Rudy Gay, Patty Mills are all gone. With the experienced, successful stars gone (Natasha), now, it's time for the young rising stars (Yelena) to step up and play a role. Guys like Keldon Johnson, Dejounte Murray, Lonnie Walker, Derrick White, Joshua Primo, Devin Vassell.
It's also a perfect fit to say a movie about family is about the Spurs, given the franchise's history and culture built by Greg Popovich.
Toronto Raptors
Movie: Avengers: Endgame
Scene: Avengers and others return post-snap
In Avengers: Endgame, the heroes won the fight by bringing back every who was lost at the end of the Infinity War movie. A handful of main characters were "blipped", gone from existence. Except they returned, 5 years later.
Now, it's only been 18 months, but for the Raptors it must feel like 5 years. March 2020 is the last time they played a regular season game in Toronto. They spent the remainder of 2020 season in the bubble in Orlando and played the 2021 season in Tampa, FL.
Raptors missed the playoffs last season for the first time since 2013 as they finished 27-45. Franchise legend Kyle Lowry is gone and the Raptors have an exciting young team built around Pascal Siakam, OG Anonuby, Fred Van Vleet, Scottie Barnes. The return to Toronto is exciting, the young guys are exciting, but will it translate to wins?
Utah Jazz
Movie: Avengers: Age of Ultron
Scene: Trying to pick up Mjolnir
There's a fun scene in the second Avengers movie where the group attempts to pick up Thor's hammer. In the end, efforts from Stark, Rhodey, Bruce Banner, Barton, and Rogers* all failed. Thor picked it up at the end, claiming they are all just unworthy.
Unworthy is one way to describe the Jazz. Utah has made the Playoffs for 5 consecutive seasons and in 2021 actually claimed the #1 seed in the West. However, they were unable to advance past the second round. 2007 is the last time Utah reached the Conference Finals.
Despite the presence of Donovan Mitchell, Rudy Gobert, Mike Conley and others, the Jazz could not achieve their goals and they weren't able to prove their worthiness of picking up the metaphorical hammer. In 2022, I wouldn't expect anything to be different. The Suns have staying power, Lakers are back and the west as a whole is a very deep conference, making life extra difficult for the Jazz.
Washington Wizards
Movie: Captain America: Winter Soldier
Scene: Bucky Barnes' brainwashing
Steve Rogers' childhood best friend James "Bucky" Barnes was revealed to not be dead during this movie. The problem was, Barnes didn't recognize Rogers as HYDRA brainwashed him, wiping away his memory and forcing him to do as they demand.
It feels like Bradley Beal has been brainwashed, like Bucky. Beal has been with the Wizards since 2012, and the team is 3-5 in playoff series during his tenure. 2017 is the last time they won a series.
Beal could demand a trade and it would likely to accommodate, but so far has not. He has this odd loyalty to a franchise with very little history of success. Its almost like he's been brainwashed?
Wizards had a busy off-season, trading away Russell Westbrook and bringing in Spencer Dinwiddie, Kyle Kuzma, Kentavious Caldwell-Pope, and others. Will this be enough to convince Beal to remain loyal? His contract expires at the end of the 2022 season.